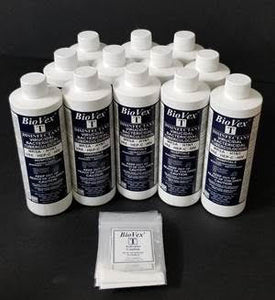 BioVex T EPA Approved Disinfectant - Chlorine Dioxide - Size By Case
Overview
BioVex® T (Chlorine Dioxide) is a environmentally friendly, hospital grade, EPA approved (EPA # 9804-1 List N) disinfectant, virucidal, bactericidal, and tuberculocidal that is 99.9999% effective against a vast array of pathogens, bacteria, fungi, and other viruses, including:

MRSA
Staph
Ringworm
VRE

SARS-CoV-2, the virus that causes COVID-19
Features/Benefits

When applied following the included instructions, BioVex®:
is environmentally friendly,
is bio-degradable
leaves no toxic residue
requires no rinse after application

is low corrosion, friendly for most surfaces
leaves little to no odor after application
Sizes/Amounts

One case of 12 bottles
Each bottle is 16-ounces of concentrate
Each 16-ounce concentrate bottle with activation packet produces 5 gallons of disinfectant

Case size: 12-inch x 9-inch x 10-inch

Application Methods

ULV Foggers

Electrostatic Sprayers
Spray Bottles
Mops

EPA, CDC Information

BioVex® is registered with the EPA (EPA # 9804-1) on List N: Disinfectants for Use Against SARS-CoV-2

Both the EPA and CDC recommend using products from EPA List N

Sample Industries

Athletic Facilities
Churches
Correctional Facilities
Healthcare
Hospitality
Office Buildings
Residential
Restaurants
Schools
Transportation
Availability
Product not for sale in California or Canada
BioVex® is an environmentally friendly, hospital grade disinfectant that provides a safe and easy-to-use system to reduce the spread of blood borne pathogens, communicable infections, and viruses from non-porous surfaces throughout all areas.  BioVex® works by attacking and breaking down the surfaces of microbes. BioVex® works immediately on contact and remains working until dried.

BioVex® is a simple to use, "Spray and Walk Away", system that can be used daily, and more often for high traffic areas and special target areas.  The process involves mixing the included activator with the BioVex® concentrate in its container. After a few seconds of mixing, the activated concentrate is then added to tap water as directed. It is then ready to go to work solving your sanitation and disinfection challenges.  BioVex® can be applied using ULV foggers, electrostatic sprayers, spray bottles and mops.  No residual active compound is left behind so no rinsing or wiping is required.

BioVex® is an excellent disinfectant for areas where people congregate as well as high traffic areas such as hallways, elevators, escalators, restrooms, lounges, restaurants and more.

BioVex® is a registered trademark of Bio-Cide International.